We are pleased to announce the upcoming visit of Vatsala Prabhu (secular name Oleg Suntsov).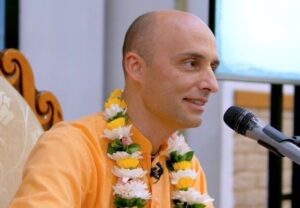 Vatsala Pradhu is an acclaimed Vedic teacher, spiritual coach, and speaker. He developed multiple international educational and personal growth programs based on in-depth studying of Vedic scriptures, such as the Bhagavad Gita and Srimad Bhagavatam.
Vatsala Prabhu will give a lecture on "Secret Meanings of Bhagavad Gita".
Prabhu will explain how Yoga, Consciousness, and Karma affect our daily life. He will clarify and connect these concepts for the audience and give simple and effective solutions to some of the most challenging life scenarios.
In the lecture, we will discuss the wisdom of deep knowledge of different levels of relationships outlined in the famous "Bhagavad Gita" Vedic scripture. These relationships are the basis for everything we experience in life, including relations between the body and soul, consciousness and emotions, emotions and karma, consciousness, and life quality, and many more. 
Join us on Friday, June 2nd at 7 pm in the Toronto Theosophical Society.
Address: 792 Glencairn Ave, North York, ON M6B 2A3
Admission: free, donations are very welcome.
How to get there: just across the street from Glencairn subway station North exit, or drive.
Parking: limited free parking on-site, free street parking on surrounding streets
Doors are open at 6:30 pm, we will offer you spiritual books and vegetarian refreshments.