The Symposium on the Ageless Wisdom and WESAK Festival on May 18 at the Theosophical Society
|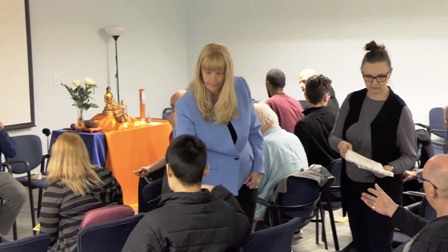 There was a total of 52 participants over the 2-day Symposium that included lectures by Cyrus Ryan and Robin Armstrong, plus 2 WESAK meditations and a forum discussing.
The presentations were lucid and very informative bringing some new insights to add to the wealth of Theosophical thought.  The actual WESAK meditation
was an experience in itself, filling the entire room with the vibrant sounds of the OM, and then the chanting of the mantra of Lord Gautama, the Buddha, the fully Enlightened One. Taking part in a WESAK event such as this, gives the spiritual seeker an opportunity to link-up with an Hierarchical effort of Divine Service to Humanity.
The Symposium on the Ageless Wisdom and WESAK Festival on May 18 at the Theosophical Society was a great success.