Geography of ME – Siddhartha – Yurij Meniachikhin
|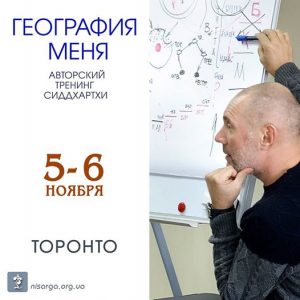 «ГЕОГРАФИЯ МЕНЯ» – авторский тренинг Сиддхартхи (Юрия Менячихина).
Date:     November 5,6, 2016
Place   Toronto Theosop
,satsanghical Society 
792 Glencairn Ave, Toronto, ON
Fee
Donation (suggested donation for seminar  "Geography of me" -$100US- $125 CAD)
Expenses – $10CAD for printed materials, food, coffee, tee, water, etc.
Please contact for confirmation and registration
Luda Lyashenko at 416-207-0675, or via e-mail  toronto.th.s@gmail.com
Основная цель тренинга: получить ясность – как и зачем я живу!
Ключевые понятия – осознанность и целостность.
В программе:
• «карта внутренней территории» – схема взаимосвязи состояний
• «травмы» и «маски» – боль и методы её компенсации
• «цикл атаки и защиты» – взаимосвязь обвинения и прощения
• «зрелость личности» – этапы развития личности
• «тонкие тела» – энерго-информационная структура человека
• «теория границ» – взаимосвязь ограничений и свободы
• «будь собой» – технология работы с состояниями
Программа:
Суббота
10.00 – 11.45 основная программа
11.45 – 12.00 перерыв: чай, кофе, печенье, фрукты
12.00 – 14.00 основная программа
14.00 – 15.00 обед
16.45 – 17.00 перерыв: чай, кофе, фрукты
15.00 – 16.45 oсновная программа
16.45 – 17.00 перерыв: чай, кофе, печенье, фрукты
17.00 – 19.00 основная программа
Воскресенье
10.00 – 11.45 основная программа
11.45 – 12.00 перерыв: чай, кофе, фрукты
11.45 – 12.00 перерыв: чай, кофе, печенье, фрукты
14.00 – 15.00 обед
16.45 – 17.00 перерыв: чай, кофе, фрукты
15.00 – 16.45 основная программа
16.45 – 17.00 перерыв: чай, кофе, печенье, фрукты
17.00 – 19.00 заключительная беседа